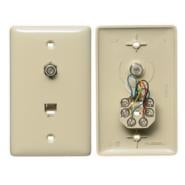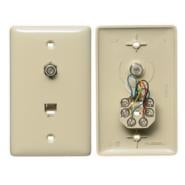 748I - Brand New STMicroelectronics IC Chips
In Stock:2350 ,Ready for Immediate Shipping
In Stock:
2350,
Ready for Immediate Shipping
Chipdatas Part No.:
CD87-748I
Manufacturer Part No.:
748I
Description

The LT®3748 is a switching regulator controller specifically designed for the isolated flyback topology and capable of high power. It drives a low side external N-channel power MOSFET from an internally regulated 7V supply. No third winding or opto-isolator is required for regulation as the part senses the isolated output voltage directly from the primary-side flyback waveform.

Specifications and features

■ 5V to 100V Input Voltage Range
■ 1.9A Average Gate Drive Source and Sink Current
■ Boundary Mode Operation
■ No Transformer Third Winding or Opto-Isolator Required for Regulation
■ Primary-Side Winding Feedback Load Regulation
■ VOUT Set with Two External Resistors
■ INTVCC Pin for Control of Gate Driver Voltage
■ Programmable Soft Start
■ Programmable Undervoltage Lockout
■ Available in MSOP Package

Application Scenarios

■ Isolated Telecom Converters
■ High Power Automotive Supplies
■ Isolated Industrial Power Supplies

Comparison

Advantages

None

Disadvantages

None

0

buyers commented on the product

Popular parts of the same kind
Additional Information
Datasheet:

Download 748I

Chipdatas Part:

CD87-748I

Warehouse:

China, Hong Kong

Dispatch:

Within 24 hours

Free Shipping:

Yes

Prority Shipping:

Yes, 3-5 days

Last Updated:

2023/12/03 10:02 +0800
Refund
Full Refund if you don't receive your order
Full or Partial Refund , If the item is not as described
Payment Method
The fee is charged according to the rule of PayPal.

The fee is charged according to the rule of PayPal.

Western Union charge US$0.00 banking fee.

We recommend to use bank transfer for large orders to save on handling fees.
Shipping Tips
DHL(www.dhl.com)
$40 limited time offer.

UPS(www.ups.com)
$40 limited time offer.

FedEx(www.fedex.com)
$40 limited time offer.

Registered Mail(www.singpost.com)
Free shipping without minimum order.