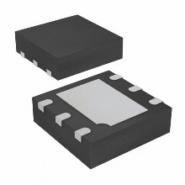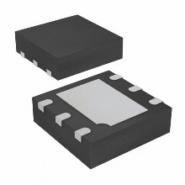 ESDA6V1-5M6 - Brand New STMicroelectronics TVS
In Stock:0 ,Ready for Immediate Shipping
In Stock:
0,
Ready for Immediate Shipping
Chipdatas Part No.:
CD88-ESDA6V1-5M6
Manufacturer Part No.:
ESDA6V1-5M6
Description

The ESDA6V1xxM6 are monolithic arrays designed to protect up to 4 or 5 lines against ESD transients.
The device is ideal for applications where both reduced print circuit board space and power absorption capability are required.

Features

■ High ESD protection level
■ High integration
■ Suitable for high density boards
■ 4 unidirectional Transil diodes (ESDA6V1M6)
■ 5 unidirectional Transil diodes (ESDA6V1-5M6)
■ Breakdown Voltage VBR = 6.1 V min
■ High peak power dissipation: 100 Watts 8/20 µs
■ Low leakage current < 500 nA
■ Low diode capacitance (70 pF typ at 0 V)
■ Very small PCB area: 1.45 mm²
■ 500 microns pitch
■ Lead-free package

Applications

Where transient overvoltage protection in ESD sensitive equipment is required, such as:
■ Computers
■ Printers
■ Communication systems
■ Cellular phone handsets and accessories
■ Video equipment

0

buyers commented on the product

Popular parts of the same kind
Additional Information
Datasheet:

Download ESDA6V1-5M6

Chipdatas Part:

CD88-ESDA6V1-5M6

Warehouse:

China, Hong Kong

Dispatch:

Within 24 hours

Free Shipping:

Yes

Prority Shipping:

Yes, 3-5 days

Last Updated:

2023/11/29 03:53 +0800
Refund
Full Refund if you don't receive your order
Full or Partial Refund , If the item is not as described
Payment Method
The fee is charged according to the rule of PayPal.

The fee is charged according to the rule of PayPal.

Western Union charge US$0.00 banking fee.

We recommend to use bank transfer for large orders to save on handling fees.
Shipping Tips
DHL(www.dhl.com)
$40 limited time offer.

UPS(www.ups.com)
$40 limited time offer.

FedEx(www.fedex.com)
$40 limited time offer.

Registered Mail(www.singpost.com)
Free shipping without minimum order.