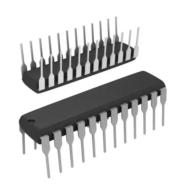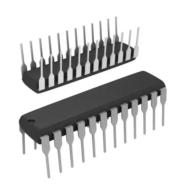 CY7C63743C-PXC - Brand New Cypress Semiconductor IC Chips
In Stock:9187 ,Ready for Immediate Shipping
In Stock:
9187,
Ready for Immediate Shipping
Chipdatas Part No.:
CD92-CY7C63743C-PXC
Manufacturer Part No.:
CY7C63743C-PXC
Functional Overview

The CY7C63xxx is a family of 8-bit RISC One Time Programmable (OTP) microcontrollers with a built-in 1.5-Mbps USB serial interface engine. The microcontroller features 35 instructions which are optimized for USB applications. There is 128 bytes of onboard RAM available incorporated into each microcontroller. The Cypress USB Controller accepts a 6 MHz ceramic resonator or a 6 MHz crystal as its clock source. This clock is doubled within the chip to provide a 12 MHz clock for the microprocessor.

Features
• Low-cost solution for low-speed USB peripherals
such as mouse, joystick, and gamepad
• USB Specification Compliance
— Conforms to USB 1.5 Mbps Specification, Version 1.0
— Conforms to USB HID Specification, Version 1.0
— Supports 1 device address and 2 endpoints
• 8-bit RISC microcontroller
— Harvard architecture
— 6 MHz external ceramic resonator or clock crystal
— 12 MHz internal operation
— USB optimized instruction set
• Internal memory
— 128 bytes of RAM
— 2K bytes of EPROM (CY7C63000, CY7C63100, CY7C63200)
— 4K bytes of EPROM (CY7C63001, CY7C63101, CY7C63201)
• I/O ports
— Integrated USB transceivers
— Up to 16 Schmitt trigger I/O pins with internal pull-up
— Up to 8 I/O pins with LED drive capability
— Special purpose I/O mode supports optimization
of photo transistor and LED in mouse application
— Maskable Interrupts on all I/O pins
• 8-bit free-running timer
• Watchdog timer (WDT)
• Internal power-on reset (POR)
• Improved output drivers to reduce EMI
• Operating voltage from 4.0V to 5.25VDC
• Operating temperature from 0 to 70 degree Celsius
• Available in space saving and low cost 18-pin PDIP,
20-pin PDIP, 20-pin SOIC, and 24-pin SOIC packages
• Windowed packages also available to support program
development: 18, 20, and 24-pin Windowed CerDIP
• Industry standard programmer support

0

buyers commented on the product

Popular parts of the same kind
Additional Information
Datasheet:

Download CY7C63743C-PXC

Chipdatas Part:

CD92-CY7C63743C-PXC

Warehouse:

China, Hong Kong

Dispatch:

Within 24 hours

Free Shipping:

Yes

Prority Shipping:

Yes, 3-5 days

Last Updated:

2023/12/10 08:29 +0800
Refund
Full Refund if you don't receive your order
Full or Partial Refund , If the item is not as described
Payment Method
The fee is charged according to the rule of PayPal.

The fee is charged according to the rule of PayPal.

Western Union charge US$0.00 banking fee.

We recommend to use bank transfer for large orders to save on handling fees.
Shipping Tips
DHL(www.dhl.com)
$40 limited time offer.

UPS(www.ups.com)
$40 limited time offer.

FedEx(www.fedex.com)
$40 limited time offer.

Registered Mail(www.singpost.com)
Free shipping without minimum order.