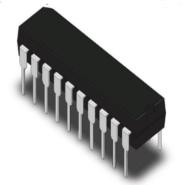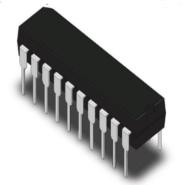 AD7755AN - Brand New Analog Devices IC Chips
In Stock:718 ,Ready for Immediate Shipping
In Stock:
718,
Ready for Immediate Shipping
Chipdatas Part No.:
CD92-AD7755AN
Manufacturer Part No.:
AD7755AN
Description

The AD7755AN is a high accuracy electrical energy measurement IC in the IC Chips product category. The part specifications exceed the accuracy requirements stated in the IEC1036 standard. This IC uses analog circuitry only in the ADCs and reference circuit, while all other signal processing is performed digitally. This approach ensures superior stability and accuracy in various environmental conditions and over time. For more information, refer to Analog Devices' Application Note AN-559 for a description of an IEC1036 watt-hour meter reference design.

Specifications and features

- High Accuracy, Supports 50 Hz/60 Hz IEC 687/1036
- Less than 0.1% Error Over a Dynamic Range of 500 to 1
- Supplies Average Real Power on the Frequency Outputs F1 and F2
- The High Frequency Output CF Is Intended for Calibration and Supplies Instantaneous Real Power
- The Logic Output REVP Can Be Used to Indicate a Potential Miswiring or Negative Power
- Direct Drive for Electromechanical Counters and Two Phase Stepper Motors (F1 and F2)
- A PGA in the Current Channel Allows the Use of Small Values of Shunt and Burden Resistance
- Proprietary ADCs and DSP Provide High Accuracy over Large Variations in Environmental Conditions and Time
- On-Chip Power Supply Monitoring
- On-Chip Creep Protection (No Load Threshold)
- On-Chip Reference 2.5 V 6 8% (30 ppm/8C Typical) with External Overdrive Capability
- Single 5 V Supply, Low Power (15 mW Typical)
- Low Cost CMOS Process

Application Scenarios

This AD7755AN is commonly used in electrical energy measurement applications, such as watt-hour meters, where high accuracy and stability are required. Its ability to support different frequencies and provide real power outputs makes it suitable for various power monitoring and management systems.

Comparison

Advantages:

High accuracy and stability in different environmental conditions and over time
Support for different frequencies
Provides average real power and instantaneous real power outputs
Direct drive capability for electromechanical counters and two phase stepper motors
Allows use of small values of shunt and burden resistance
On-chip power supply monitoring and creep protection
Low power consumption
Cost-effective CMOS process

Disadvantages:

Requires external overdrive capability for the reference voltage

0

buyers commented on the product

Popular parts of the same kind
Additional Information
Datasheet:

Download AD7755AN

Chipdatas Part:

CD92-AD7755AN

Warehouse:

China, Hong Kong

Dispatch:

Within 24 hours

Free Shipping:

Yes

Prority Shipping:

Yes, 3-5 days

Last Updated:

2023/12/10 08:13 +0800
Refund
Full Refund if you don't receive your order
Full or Partial Refund , If the item is not as described
Payment Method
The fee is charged according to the rule of PayPal.

The fee is charged according to the rule of PayPal.

Western Union charge US$0.00 banking fee.

We recommend to use bank transfer for large orders to save on handling fees.
Shipping Tips
DHL(www.dhl.com)
$40 limited time offer.

UPS(www.ups.com)
$40 limited time offer.

FedEx(www.fedex.com)
$40 limited time offer.

Registered Mail(www.singpost.com)
Free shipping without minimum order.