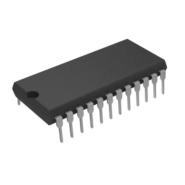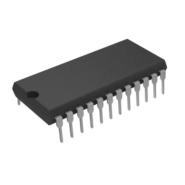 AT28C16-20PI - Brand New Intel / Altera IC Chips
In Stock:4290 ,Ready for Immediate Shipping
In Stock:
4290,
Ready for Immediate Shipping
Chipdatas Part No.:
CD92-AT28C16-20PI
Manufacturer Part No.:
AT28C16-20PI
Description

The AT28C16-T is the ideal nonvolatile attribute memory: it is a low power, 5-volt-only byte writable nonvolatile memory (EEPROM). Standby current is typically less than 100 µA. The AT28C16-T is written like a Static RAM, eliminating complex programming algorithms. The fast write cycle times of 1 ms, allow quick card reconfiguration in-system. Data retention is specified as 10 years minimum, precluding the necessity for batteries. Three access times have been specified to allow for varying layers of buffering between the memory and the PCMCIA interface.
The AT28C16-T is accessed like a Static RAM for read and write operations. During a byte write, the address and data are latched internally. Following the initiation of a write cycle, the device will go to a busy state and automatically write the latched data using an internal control timer. The device provides two methods for detecting the end of a write cycle; the RDY/BUSY output and DATA POLLING of I/O7.

Features

• Ideal Rewritable Attribute Memory
• Simple Write Operation
– Self-Timed Byte Writes
– On-chip Address and Data Latch for SRAM-like Write Operation
– Fast Write Cycle Time - 1 ms
– 5-Volt-Only Nonvolatile Writes
• End of Write Detection
– RDY/BUSY Output
– DATA Polling
• High Reliability
– Endurance: 100,000 Write Cycles
– Data Retention: 10 Years Minimum
• Single 5-Volt Supply for Read and Write
• Very Low Power
– 30 mA Active Current
– 100 µA Standby Current

0

buyers commented on the product

Popular parts of the same kind
Additional Information
Datasheet:

Download AT28C16-20PI

Chipdatas Part:

CD92-AT28C16-20PI

Warehouse:

China, Hong Kong

Dispatch:

Within 24 hours

Free Shipping:

Yes

Prority Shipping:

Yes, 3-5 days

Last Updated:

2023/12/10 22:44 +0800
Refund
Full Refund if you don't receive your order
Full or Partial Refund , If the item is not as described
Payment Method
The fee is charged according to the rule of PayPal.

The fee is charged according to the rule of PayPal.

Western Union charge US$0.00 banking fee.

We recommend to use bank transfer for large orders to save on handling fees.
Shipping Tips
DHL(www.dhl.com)
$40 limited time offer.

UPS(www.ups.com)
$40 limited time offer.

FedEx(www.fedex.com)
$40 limited time offer.

Registered Mail(www.singpost.com)
Free shipping without minimum order.