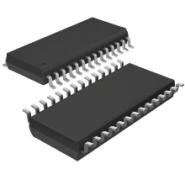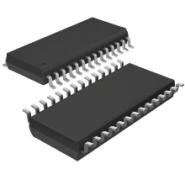 MAX307EUI+ - Brand New MAXIM Analog Switches / Multiplexers
In Stock:0 ,Ready for Immediate Shipping
In Stock:
0,
Ready for Immediate Shipping
Chipdatas Part No.:
CD82-MAX307EUI+
Manufacturer Part No.:
MAX307EUI+
$22.79620
/pcs
Each tube contains 50 pcs
Description

The MAX307EUI+ is a precision, monolithic, CMOS analog multiplexer designed for analog switches/multiplexer applications. The device has low on-resistance that ranges from less than 100Ω and the matching is within 5Ω between channels. The device has a flat resistance over a specified range of signals (7Ω maximum). It also has low leakage over temperature of less than 2.5nA at +85°C with fast switch speeds. The MAX307EUI+ is a differential 2-of-8 device which can significantly improve the device's performance.

Specifications and features

On-Resistance Match Between Channels: Guaranteed < 5Ω Max
On-Resistance: Low < 100Ω Max
Flat On-Resistance: Guaranteed Over Specified Signal Range, 7Ω Max
Charge Injection: Guaranteed < 10pC
Maximum Leakage: INO(OFF) < 2.5nA at +85°C, ICOM(OFF) < 20nA at +85°C
ESD Protection: > 2000V
Upgradeability: Plug-In Upgrade for Industry-Standard DG406/DG407/DG506A/DG507A
Operation: Single-Supply Operation (+5V to +30V) Bipolar-Supply Operation (±4.5V to ±20V)
Power Consumption: Low < 1.25mW
Signal Handling: Rail-to-Rail
Compatibility: TTL/CMOS-logic Compatible

Application Scenarios

The MAX307EUI+ can be used in various applications such as sample-and-hold circuits, test equipment, heads-up displays, guidance and control systems, military radios, communications systems, battery-operated systems PBX, PABX, and audio signal routing.

Comparison

Advantages

Low on-resistance
Guaranteed on-resistance match between channels
Flat resistance over a specified range of signals
Low leakage over temperature
Fast switch speeds
ESD protection > 2000V
Plug-in upgradeability for industry-standard devices
Rail-to-rail signal handling
Low power consumption
Compatible with TTL/CMOS-logic

Disadvantages

0

buyers commented on the product

Popular parts of the same kind
Additional Information
Datasheet:

Download MAX307EUI+

Chipdatas Part:

CD82-MAX307EUI+

Warehouse:

China, Hong Kong

Dispatch:

Within 24 hours

Free Shipping:

Yes

Prority Shipping:

Yes, 3-5 days

Last Updated:

2023/12/11 10:26 +0800
Refund
Full Refund if you don't receive your order
Full or Partial Refund , If the item is not as described
Payment Method
The fee is charged according to the rule of PayPal.

The fee is charged according to the rule of PayPal.

Western Union charge US$0.00 banking fee.

We recommend to use bank transfer for large orders to save on handling fees.
Shipping Tips
DHL(www.dhl.com)
$40 limited time offer.

UPS(www.ups.com)
$40 limited time offer.

FedEx(www.fedex.com)
$40 limited time offer.

Registered Mail(www.singpost.com)
Free shipping without minimum order.