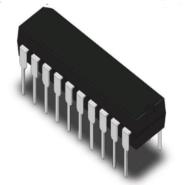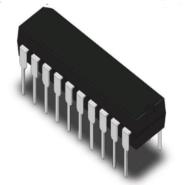 GAL20V8B-10LPI - Brand New LATTICE IC Chips
In Stock:995 ,Ready for Immediate Shipping
In Stock:
995,
Ready for Immediate Shipping
Description

The GAL20V8C, at 5ns maximum propagation delay time, combines a high performance CMOS process with Electrically Erasable (E2) floating gate technology to provide the highest speed performance available in the PLD market. High speed erase times (<100ms) allow the devices to be reprogrammed quickly and efficiently.
The generic architecture provides maximum design flexibility by allowing the Output Logic Macrocell (OLMC) to be configured by the user. An important subset of the many architecture configurations possible with the GAL20V8 are the PAL architectures listed in the table of the macrocell description section. GAL20V8 devices are capable of emulating any of these PAL architectures with full function/fuse map/parametric compatibility.

Features

• HIGH PERFORMANCE E2CMOS® TECHNOLOGY
— 5 ns Maximum Propagation Delay
— Fmax = 166 MHz
— 4 ns Maximum from Clock Input to Data Output
— UltraMOS® Advanced CMOS Technology
• 50% to 75% REDUCTION IN POWER FROM BIPOLAR
— 75mA Typ Icc on Low Power Device
— 45mA Typ Icc on Quarter Power Device
• ACTIVE PULL-UPS ON ALL PINS
• E2 CELL TECHNOLOGY
— Reconfigurable Logic
— Reprogrammable Cells
— 100% Tested/100% Yields
— High Speed Electrical Erasure (<100ms)
— 20 Year Data Retention
• EIGHT OUTPUT LOGIC MACROCELLS
— Maximum Flexibility for Complex Logic Designs
— Programmable Output Polarity
— Also Emulates 24-pin PAL® Devices with Full Function/Fuse Map/Parametric Compatibility
• PRELOAD AND POWER-ON RESET OF ALL REGISTERS
— 100% Functional Testability
• APPLICATIONS INCLUDE:
— DMA Control
— State Machine Control
— High Speed Graphics Processing
— Standard Logic Speed Upgrade

0

buyers commented on the product

Popular parts of the same kind
Additional Information
Datasheet:

Download GAL20V8B-10LPI

Chipdatas Part:

CD90-GAL20V8B-10LPI

Warehouse:

China, Hong Kong

Dispatch:

Within 24 hours

Free Shipping:

Yes

Prority Shipping:

Yes, 3-5 days

Last Updated:

2023/12/11 00:40 +0800
Refund
Full Refund if you don't receive your order
Full or Partial Refund , If the item is not as described
Payment Method
The fee is charged according to the rule of PayPal.

The fee is charged according to the rule of PayPal.

Western Union charge US$0.00 banking fee.

We recommend to use bank transfer for large orders to save on handling fees.
Shipping Tips
DHL(www.dhl.com)
$40 limited time offer.

UPS(www.ups.com)
$40 limited time offer.

FedEx(www.fedex.com)
$40 limited time offer.

Registered Mail(www.singpost.com)
Free shipping without minimum order.