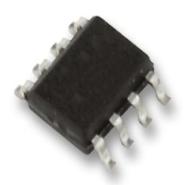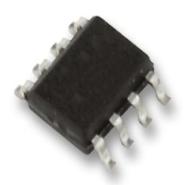 AD8350AR15 - Brand New Analog Devices IC Chips
In Stock:4412 ,Ready for Immediate Shipping
In Stock:
4412,
Ready for Immediate Shipping
Chipdatas Part No.:
CD87-AD8350AR15
Manufacturer Part No.:
AD8350AR15
Description

The AD8350AR15 is a high performance fully-differential amplifier designed for RF and IF circuits up to 1000 MHz. It offers a high output third order intercept (OIP3) of +22 dBm at 250 MHz and has a low noise figure of 5.9 dB at the same frequency. This amplifier is available in two gain versions: 15 dB (AD8350-15) and 20 dB (AD8350-20).

Specifications and features

High Dynamic Range
Output IP3: +22 dBm at 250 MHz
Low Noise Figure: 5.9 dB at 250 MHz
Two Gain Versions: AD8350-15 (15 dB) and AD8350-20 (20 dB)
-3 dB Bandwidth: 1.0 GHz
Single Supply Operation: +5 V to +10 V
Supply Current: 28 mA
Input/Output Impedance: 200 V
Single-Ended or Differential Input Drive
8-Lead SOIC Package

Application Scenarios

Cellular Base Stations
Communications Receivers
RF/IF Gain Block
Differential A-to-D Driver
SAW Filter Interface
Single-Ended to Differential Conversion
High Performance Video
High Speed Data Transmission

Comparison

Advantages

The AD8350AR15 demonstrates a high dynamic range, exceptional linearity, and increased common-mode rejection, making it suitable for demanding communications transceiver applications. It can be used as a general purpose gain block, an A-to-D driver, and high-speed data interface driver. Additionally, it can be used as a single-ended-to-differential converter.

Disadvantages

No notable disadvantages have been reported for the AD8350AR15 model.

0

buyers commented on the product

Popular parts of the same kind
Additional Information
Datasheet:

Download AD8350AR15

Chipdatas Part:

CD87-AD8350AR15

Warehouse:

China, Hong Kong

Dispatch:

Within 24 hours

Free Shipping:

Yes

Prority Shipping:

Yes, 3-5 days

Last Updated:

2023/12/11 11:14 +0800
Refund
Full Refund if you don't receive your order
Full or Partial Refund , If the item is not as described
Payment Method
The fee is charged according to the rule of PayPal.

The fee is charged according to the rule of PayPal.

Western Union charge US$0.00 banking fee.

We recommend to use bank transfer for large orders to save on handling fees.
Shipping Tips
DHL(www.dhl.com)
$40 limited time offer.

UPS(www.ups.com)
$40 limited time offer.

FedEx(www.fedex.com)
$40 limited time offer.

Registered Mail(www.singpost.com)
Free shipping without minimum order.