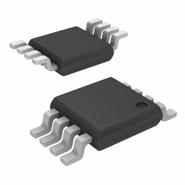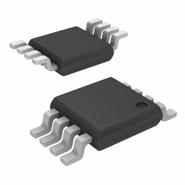 AD8227ARMZ - Brand New Analog Devices Instrumentation OpAmps
In Stock:5324 ,Ready for Immediate Shipping
In Stock:
5324,
Ready for Immediate Shipping
Chipdatas Part No.:
CD88-AD8227ARMZ
Manufacturer Part No.:
AD8227ARMZ
Package:
8-TSSOP, 8-MSOP 0.118", 3.00mm Width
Description

The AD8227ARMZ is a low cost, wide supply range instrumentation amplifier designed for use with a variety of signal voltages. It requires only one external resistor to set any gain between 5 and 1000. Its wide input range and rail-to-rail output allow the signal to make full use of the supply rails and can go below the negative supply, which is useful for amplifying small signals near ground without requiring dual supplies.

This model can operate on supplies ranging from ±1.5 V to ±18 V (2.2 V to 36 V single supply) and its inputs are designed to connect to real-world sensors. The device has a robust input range and can handle voltages beyond the rails. With a ±5 V supply, the part is guaranteed to withstand ±35 V at the input with no damage. The AD8227 allows for open wire detection as minimum and maximum input bias currents are specified.

With its MSOP package and 125°C temperature rating, the AD8227ARMZ is ideal for multichannel, space-constrained applications and can thrive in tightly packed, zero airflow designs.

Specifications and features

Gain set with 1 external resistor
Gain range: 5 to 1000
Input voltage goes below ground
Inputs protected beyond supplies
Very wide power supply range
Single supply: 2.2 V to 36 V
Dual supply: ±1.5 V to ±18 V
Bandwidth (G = 5): 250 kHz
CMRR (G = 5): 100 dB minimum (B Grade)
Input noise: 24 nV/√Hz
Typical supply current: 350 μA
Specified temperature: −40°C to +125°C
8-lead SOIC and MSOP packages

Application Scenarios

The AD8227ARMZ is commonly used in:

Industrial process controls
Bridge amplifiers
Medical instrumentation
Portable data acquisition
Multichannel systems

Comparison

Advantages

Requires only one external resistor for gain setting
Can handle voltages beyond the rails
Can operate on a wide range of power supplies
Compact and highly temperature-resistant design

Disadvantages

Input noise is relatively high at 24 nV/√Hz
CMRR (Common-Mode Rejection Ratio) is 100dB minimum only at a gain of 5 and decreases with other gains

0

buyers commented on the product

Popular parts of the same kind
Additional Information
Datasheet:

Download AD8227ARMZ

Chipdatas Part:

CD88-AD8227ARMZ

Warehouse:

China, Hong Kong

Dispatch:

Within 24 hours

Free Shipping:

Yes

Prority Shipping:

Yes, 3-5 days

Last Updated:

2023/12/03 18:38 +0800
Refund
Full Refund if you don't receive your order
Full or Partial Refund , If the item is not as described
Payment Method
The fee is charged according to the rule of PayPal.

The fee is charged according to the rule of PayPal.

Western Union charge US$0.00 banking fee.

We recommend to use bank transfer for large orders to save on handling fees.
Shipping Tips
DHL(www.dhl.com)
$40 limited time offer.

UPS(www.ups.com)
$40 limited time offer.

FedEx(www.fedex.com)
$40 limited time offer.

Registered Mail(www.singpost.com)
Free shipping without minimum order.